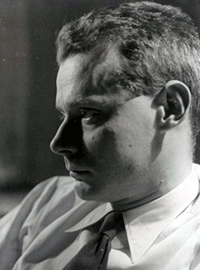 Nino Frank is well known to English-speaking readers as the critic who first drew attention to the "noir" undercurrent in 1940s Hollywood crime films, but his other, wide-ranging achievements are much less well-known. This website developed from doctoral research into film criticism in France, initially around the subject of film noir; and in my final chapter I summarise and discuss the all-important film noir debates of 1946, and the developments to which they gave rise later in the twentieth century, citing important articles, many of which can now be read free of charge on academic library websites. This was the first chapter I published, in 2011.
However, it soon became evident to me that the 1940s debates could not be properly understood without a knowledge of the experience and thinking of these critics during the preceding decades. Most of them had been cinephiles from a very young age, while Frank, who started the whole discussion, came from a different background. He was Swiss-Italian by birth, distinctive because his experience was much broader and his first passion was literature, especially the experimental modernist movements of the early twentieth century. He came to film criticism when for political reasons he could no longer work in literary journalism; and he demanded from films the honesty, and connection to real life, which he found in serious literature.
Between 2011 and 2018 I therefore carried out further researches, and the chronologically earlier chapters are devoted to the literary and film developments of the 1920s to the 1940s, seen through the optic of the fascinating Nino Frank. He worked with some of the most iconoclastic writers of the age: Massimo Bontempelli ("magic realism"), Pierre Mac Orlan ("fantastique social"), Georges Ribemont-Dessaignes (Dada), James Joyce (translation of part of Finnegan's Wake). As an arts journalist in Paris, he knew all the literary, artistic, theatrical icons of the 1920s, and the film directors and actors of the 1930s. He fell foul of two Fascist regimes, first in Italy then in France under the German Occupation, and through all this time he continued to write: reviews, short stories and also memoirs and commentaries on the surrounding scene (for instance, over 1000 articles in the 1930s film magazine Pour Vous). His writings are a goldmine for this period, and I hope to have given enough quotations and reference points here to intrigue readers and encourage further exploration.
I also include a chapter in French, originally written for a French journal, on the importance of Pierre Mac Orlan and his concept of the "fantastique social" for a fuller understanding of the European films of the 1930s, and of Nino Frank's 1946 recognition of a "noir" element in Hollywood cinema.
The final chapter gives further insights into Frank's relationship with Barletta, his native town, and his translations of Italian literature for a French audience.
These chapters are followed by a brief biography, listing Frank's key activities and achievements over the course of his life.
Margaret Holmes