Nino Frank's importance today in Barletta, town of his birth
(This chapter also appears as Chapter 13 in the main text)
The historical town, and Nino Frank's description
The town of Barletta, on the coast of Puglia (previously Apulia), has a long history, reaching a high point during the Middle Ages. There are traces of Greeks in Apulia from the eighth century BC; and signs still remain of a Phoenician settlement in the fourth century BC, when wine-growing – one of its most successful modern industries – was introduced. The Adriatic coast was a convenient entry point for traders and military campaigns from the south, and in 216 BC Hannibal defeated the Romans at Cannae, just outside Barletta.
In the sixth century AD the Germanic Longobardi, who had swept down from Northern Europe, conquered the whole Italian peninsula and held power for two hundred years, before it fell to other marauding tribes in successive waves. But it was from the arrival of the Normans in the eleventh century, the setting up of the Kingdom of the Two Sicilies, and the reigns of two Northerners who loved the South – the Norman Roger II, followed by the Swabian, Frederick Hohenstaufen – that Barletta, one of the major centres of Apulia, enjoyed its most glorious period.
We take up the story of Barletta with the words of Nino Frank, who was born in the town and always retained a strong affection for it. This is how he described its history, in L'Italie que j'aime (1967):
From the beginning of the Middle Ages, Apulia was the favoured land of the south. It was called Magna Graecia, and conquerors saw it as their bridgehead into the country: Tyrrhus, king of Epirus, came ashore there, and the battlefield of Cannae, covered in olive groves again now, is beginning to attract archaeologists, who are discovering on its plain the ancient ivory of Hannibal's elephants. But better yet: the whole coast of Apulia is scattered with Norman castles, shining brilliant white, and romanesque churches, among the most beautiful that exist, recalling the lineage of Tancrède de Hauteville, overlord of Coutances [in Normandy]. It is from here that the Kingdom of the Two Sicilies took off, through Robert Guiscard and his brothers, cast up on this land when they were bound for the Crusades….
Promised land, Apulia became so especially when that most passionate of emperors, Frederick Hohenstaufen, this Swabian who cared only for Sicily and established there the first school of poets in Italy, transferred his court to Foggia, to an already rich and fertile plain: there he formed the first truly imperial administration of modern times, creating a network of routes and establishing a centre of culture through which, thanks to Jewish scholars, the science of Islam and the light of Hellenism would penetrate the darkness of the West….A witness to this remains, a few kilometres from Barletta: the impregnable Castel del Monte, a perfect octagon with round towers, considered to be a masterpiece of the military architecture of the Middle Ages.1 | original text
But after the death of Frederick, first the French House of Anjou and then the Spanish crown conquered the region. Under the French, Naples gained pre-eminence, and the southern lands were divided into great private estates for men of influence, known as 'latifundia'. Nino Frank, in common with many natives of the south, saw this development as the starvation of its culture, and the cause of its decline. Even at the beginning of the twentieth century, as he recalled, day workers were being treated as little better than slaves:
Why did all this splendour disappear?...An explanation is the expansion of Naples and its plain, through the desire of the dukes and barons to block competition from the Marches. Once it was given over to latifundia, the region would be reduced to pasture; all cultivation forbidden; the ports cut off from commerce with the infidels. So began the long catalepsy, and thus were born the terroni [agricultural workers] who, in the course of the centuries, became braccianti [day labourers]. I still remember these human markets; men standing there in shirtsleeves in a town square: walking round among them, maquignons [dealers] felt their arms with a look of disgust, offered a derisory sum, then took away the chain of farm-workers acquired like cattle. 2 | original text
The Barletta of Nino Frank's birth in 1904, in Palazzo Tresca, via Imbriani
In the 1940s, in a grey wartime Paris, Frank recalled the physical characteristics of his home town, and especially its visceral appeal to his senses:
I spent my childhood in a small Italian town, at the far end of the boot, a town which – dazzling white during its eight months of scorching sun – holds the scent of the sea, of tomatoes, the African wind, a heavy wine fresh from the presses. 3 | original text
In an even later memoir, in 1967, he went right back to his earliest days as a tiny child, in Palazzo Tresca:
The cocoon. The apartment in Palazzo T…[Tresca, but not spelt out], the very first, opposite the gardens: spacious, animated. I sensed constant comings and goings, laughter, a strong scent of women. 4 | original text
This was a blissful period, surrounded by indulgent, much older sisters. But very soon these sisters married and left home, and Nino moved with his parents to a smaller, less distinguished flat nearby.
But it was the commodious, welcoming Palazzo Tresca which was important to him, and remained in his memory. It was one of the first stylish fin de siècle (1895) apartment houses built for the new bourgeoisie of the town, conveniently close to the station (opened in 1864) but with a garden square in between, and suitably distant from the castle and Norman churches of the historic but rundown Old Town with its narrow alleys and cramped workers' accommodation. Nino's family were certainly part of the new bourgeoisie, his father the manager of the large wine company exporting Puglian wine from Barletta to Béziers in southern France to strengthen the wines of Bordeaux, part of a circle of managers from other parts of Europe, drawn in by recent industrial expansion.
It is a measure of the prosperity of Barletta in the early twentieth century that a group of industrialists led by Francesco Paolillo launched one of the first cinemas in Italy in 1914, the Politeama Paolillo, still flourishing in expanded form today. Nino's father was a shareholder, and the ten-year-old had almost unlimited access to this cinema: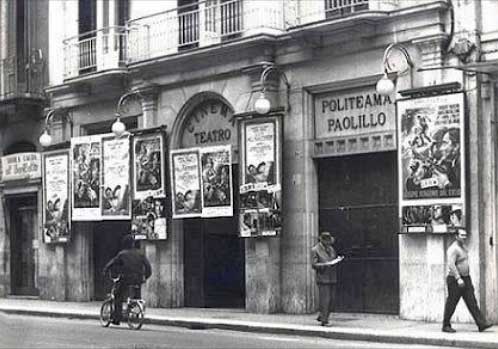 He would leave Barletta for school in Naples, over 200 kilometres away, the following year, and return only for brief visits, but he retained these vivid memories all his life. And his introduction to the cinema as a child in Barletta would prepare him for life in Paris as a young man, where he would be swept up in a whirlwind of enthusiasm for the art of cinema:
How would I have been able to escape this contagion?
It was a thrilling time: the time of youth, for my generation and the cinema. Continuing the parallel between our destinies: children and adolescents at the same time, together we reached 22, 23, 24, the age of the most feverish enthusiasms…5 | original text
The Palazzo Tresca today, and campaigns to save it
In common with many of Italy's cities, Barletta has suffered the destruction and replacement, in the name of progress and modernity, of many of its historic buildings. But in recent years, the residents of Barletta – as also in other Italian towns – have begun to rise up against the destruction of their heritage.
Against all the odds, Palazzo Tresca still stands, almost the only survivor of an architectural and social phenomenon still considered worth fighting for by conservationists and architects, against the onslaught of developers. This is the building today – forlorn but still solid, with recognisable architectural features of the period: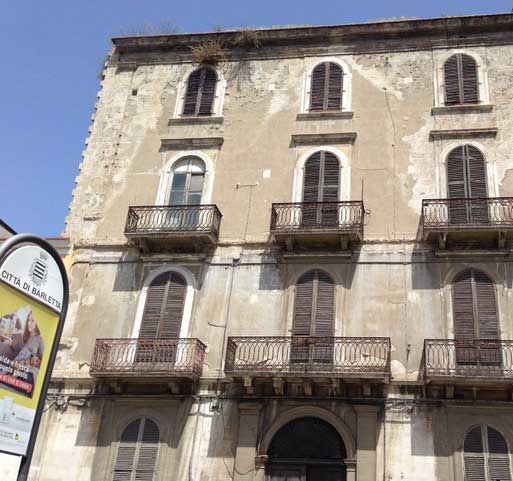 2017, the town mobilises against the assault of developers
But in 2017, it was the turn of Palazzo Tresca to be threatened by the developers' wrecking-balls, and a determined campaign to save it was undertaken by the local citizens. The argument here was not simply one of conservation of the infrastructure, although its architectural characteristics, as a late nineteenth-century building of quality, were of major importance.
As an impassioned appeal by the Barletta journalist Nino Vinella indicates, the building is also seen to have historic importance as the place of birth of Nino Frank – the town's most famous cultural export, after Giuseppe De Nittis, the nineteenth century painter who exhibited with the Impressionists. Both men left Barletta and settled in Paris, cultural emissaries for their city and their country. Barletta now boasts an art gallery filled with the paintings of De Nittis, left to the city by his widow. Nino Vinella, film historian, continues to work to preserve the memory of Nino Frank and his works, and he wrote an article on 9 September, 'Non può essere abbattuto', to emphasise the significance of Frank's birthplace:
I add my voice to the chorus of those who want to save Palazzo Tresca from demolition, with my personal testimony based on accurate historical research. For in 1904, here in Barletta, within these very walls, was born Nino Frank, this eclectic intellectual with a thousand interests and every authorial ability: writer, journalist, radio presenter, cinema critic and so many others. But above all, right from the years of his youth, his life and long career were stamped with the reputation of a great translator of Italian literature into the French language. His life and career turned entirely to Paris, where he passed away on 17 August 1988, a year after he received the French national Grand Prix for Translation. Many of our best writers owe their success north of the Alps to his unique translation style: Pavese, Brancati, Zavattini, Fenoglio, Sciascia, Calvino, Savinio, Malaparte…6 | original text
(See Appendix for extended extract of this article in Italian)
Many voices were raised in the city against the demolition project, and it was seen as a sufficiently important test case nationally that the architectural magazine Italia Nostra ran a number of articles, among them one by Ettore Maria Mazzola, born in Barletta:
Recently I had to fight for my native city, Barletta, where the nineteenth-century Palazzo Tresca, rich in local and national history, was about to be demolished to make way for one of so many anonymous apartment buildings in poor taste which, since the end of the 1960s, have distorted the historic centre of the Puglian city. Perhaps in this case, good sense has triumphed, but it was necessary for us to undertake a real war in the media and to confront the builder, to make local government and the builder realise that this operation was simply not admissible. 7 | original text
As a result of the overall campaign, the demolition proposal was blocked. But the builders would try again…
2019, and a new shock
Everything had gone quiet: Palazzo Tresca had not been demolished, but nor had there been any moves to renovate it, or restore at least the façade to its original condition, as the conservationists had wished. Indeed, there was no hint of intended new work until a question was raised at the Council Meeting at the end of May, 2019: did Council members know that approval had been given for its "imminent demolition" and rebuilding?
At once Grazia Desario, the Presidente Provinciale di Italia in Comune, reacted furiously to the news:
Hands off Palazzo Tresca. The best deals, in the building trade, are done in August! The Commune of Barletta, and precisely the building sector, hands over the permit to demolish a nineteenth-century building of the highest architectural quality, as if it were a castle of sand. Another piece of our historical memory will be destroyed!8 | original text
Then suddenly, on the morning of 7 June, the regular passers-by and occupants of the benches in the square opposite stared in disbelief. This building, untouched for so many years while others fell, was now blocked off by wire fencing, with men in hard hats going in and out. Every few minutes, someone asked what was happening, and relayed the news to those waiting expectantly nearby.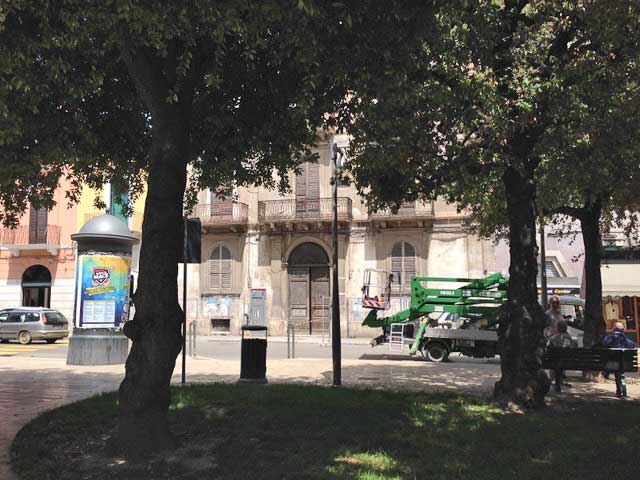 The conservationists moved fast. That same day, as reported in Barletta Viva, the Department responsible for Cultural Heritage intervened to stop the work going forward: 'Palazzo Tresca, the Department demands the immediate suspension of the works', reporting that "Today has come the instruction to 'Halt!' direct from the Ministry of Cultural Heritage" (which had heard of the demolition permit only from the press, not from the Commune). 9 | original text
And in a heroic joint effort, still on 7 June, a group of 23 young Barlettan architects and engineers put together a long impassioned plea, reported in La Gazzetta del Mezzogiorno: 'Barletta, SOS for Palazzo Tresca: "it must not be torn down". They argued passionately for the historical and aesthetic importance of the building:
Its demolition and possible substitution with a new building which would destroy the fundamental structure of the original organism, the original configuration of the façade and the original architectural style, would risk causing severe damage to the image of the whole of this important part of the city, which faces the De Nittis Gardens and which has formed, and still forms today, one of the most characteristic and emblematic "representative images" of the city of Barletta, 10 | original text
and in addition, for its cultural importance as the birthplace of Nino Frank:
If we add to this the cultural value of such a building, which saw the birth of the eclectic intellectual Nino Frank – writer, journalist, radio presenter, film critic and above all, internationally acclaimed translator, born in Barletta in 1904, died in Paris in 1988 – it seems clear that there is more than one good reason to consider that the demolition of such an important Barlettan palazzo would be a grave error, and would cause serious harm to the image of the whole city. 11 | original text
But in spite of the temporary 'Halt!', they remained sufficiently concerned to plan a protest on 10 June with a human chain:
We will form a human chain to protest against the demolition of an architectural jewel of the 1800s….On behalf of beauty, elegance, sobriety, architectural and urban design harmony, which has characterised our country in the past and which must be preserved and jealously guarded. And, why not, handed down. 12 | original text
The Ministry had declared a suspension period of four months, while the matter was considered in depth, and a heated argument continued over the summer. On the one side were those who wanted to preserve the building; and on the other the co-owners, who wished to continue with their demolition plans, supported by the voices of those who felt the town should look forward rather than back.
The co-owners presented their argument on 29 August, but on 4 October the regional administration for Foggia and Barletta, Andria and Trani (BAT) was adamant that Palazzo Tresca was:
one of the rare testimonies to the evolution in the urban planning of the city of Barletta in that historical period [late 1800s], mostly lost or damaged from the second half of the twentieth century on. 13 | original text
This statement was followed up on 10 October by a decree from the national Ministry of Cultural Heritage that Palazzo Tresca was indeed "a building of particularly important interest", and thus was to be preserved according to the Codice [Laws] of Cultural Heritage. 14 | original text
The campaigners were jubilant, but after all the setbacks felt they should include a note of caution. On 14 October, newspapers reported the comment of Councillor Grazia Di Bari:
The proprietors, their lawyer and Mayor Cannito have been informed of this measure, and they could contest the Ministry decision. Obviously we all hope this will not happen, and that those pressing for what could have been a serious scar on the city of Barletta will have understood their error and will accept the decision of the Ministry. 15 | original text
The future
The city now waits to see whether a definitive solution can be found. But what is evident is that the name of Nino Frank continues to be significant to the history of Barletta, as an important writer and radio and television producer. Because he was exiled from Italy under the rule of Mussolini, however, and spent the rest of his life in Paris, writing in French, he is perhaps less widely known in Italy than he deserves. Much of his journalism and his radio and television writing was of its time, and is perhaps less immediate to us today.16
But he should especially be remembered with pride in Italy for his works of translation, of major Italian writers into French, which were instrumental in bringing these writers to the attention of French readers. In 1987, the year before he died, he was awarded the French Grand Prix national de la Traduction. The Bibliothèque nationale française holds 34 of his translated works, from 21 Italian authors, and more may well exist. Below, for Italian readers, we list this impressive body of work.
Barletta's other major cultural export, Giuseppe De Nittis, is remembered and celebrated through his art museum in the city. If it is possible to preserve Palazzo Tresca, it would seem appropriate for it to display, with pride, a plaque to Nino Frank.
Important Italian novels and memoirs, translated into French by Nino Frank
Italian author
Italian title
date
French title
Publisher
earliest
ed. found
Vitaliano Brancati
Paolo il caldo
1955
Les ardeurs de Paolo
Laffont
1959
Italo Calvino
Rosmarina, also in:
Fiabe italiane
Orlando furioso
(from Ariosto)
1956
1956
1970
Romarine
Contes populaires italiens
Roland furieux
Nathan
Denoël
Gallimard
1980
1980-4
1982
Achille Campanile
L'Eroe
1976
Le Héros
Denoël
1977
Federico Fellini
Intervista sul cinema
1983
Fellini par Fellini
Flammarion
1987
Beppe Fenoglio
Una questione privata
1963
Une affaire personnelle
Gallimard
1978
Carlo Gozzi
Memorie inutile
1797
Mémoire inutiles
Eds Rencontre
1970
Guerra e Malerba
Millemosche
1969
Millemouches
Denoël
1972
Gina Lagori
Tosca dei gatti
1983
Tosca des chats
Luneau Ascot
1985
Gavino Ledda
Padre padone,
l'educazione di un pastore
1975
Padre padrone,
l'éducation d'un berger sarde
Gallimard
1977
Curzio Malaparte
Il ballo al Cremlino
1971
Le bal au Kremlin
Denoël
1985
Alberto Moravia
Racconti romani
1954
Nouvelles romaines
Flammarion
1982
Giovanni Papini
Lo specchio che fugge
1975
Le miroir qui fuit
Retz-Ricci
1979
Pier Maria Pasinetti
Il ponte dell'Accademia
1968
Le pont de d'Accademia
Calmann-Lévy
1970
Cesare Pavese
Primo che il gallo canti
Ciao Masino
1949
1968
Avant que le coq chante
Salut Masino
Gallimard
Gallimard
1953
1973
Giuseppe Pontiggia
Il giocatore invisibile
Il raggio d'ombra
1978
1983
Le joueur invisible
Le rayon d'ombre
Nadeau
Nadeau
1985
1988
Salvatore Satta
Il giorno del giudizio
La veranda
1977
1981
Le jour du jugement
La véranda
Gallimard
Gallimard
1981
1989
Alberto Savinio
Achille innamorato
Tutta la vita
1938
1945
Achille énamouré
Toute la vie
Gallimard
Gallimard
1979
1975
Leonardo Sciascia
Candido, ovvero un
sogno fatto in Sicilia
Nero su nero
1977

1979
Candido, ou un rêve
fait en Sicile
Noir sur noir
Nadeau

Nadeau
1978

1981
Orfeo Tamburi
Malaparte come me
1980
Malaparte à contre-jour
Denoël
1979
Juan R. Wilcock
Il caos
Il tempio etrusco
1960
1973
Le chaos
Le temple étrusque
Gallimard
Gallimard
1982
1982
Cesare Zavattini
I poveri sono matti
Lettera da Cuba
a una donna che lo ha tradito
Diario di cinema ...
1937
1967

1967
Les pauvres sont fous
Lettre de Cuba
à une femme qui m'a trompé
Cinéparoles
Julliard
Denoël

Denoël
1965
1967

1971
APPENDIX
Extended extract from Nino Vinella's article of 9.9.2017, in Italian
A Palazzo Tresca in via Imbriani nacque Nino Frank
Mi unisco al coro di chi vuole salvare Palazzo Tresca dall'abbattimento con questa mia personale testimonianza, frutto di accurata ricerca storica. Perché fra quelle mura a Barletta nasceva nel 1904 Nino Frank, eclettico intellettuale dai mille interessi e volti tutti d'autore: scrittore, giornalista, conduttore radiofonico, critico cinematografico e tanto altro ancora. Ma soprattutto, dagli anni della giovinezza, la sua vita e la lunga carriera furono contrassegnate dalla riconosciuta fama di grande traduttore in lingua francese della letteratura italiana, vita e carriera svoltesi per intero a Parigi, dove si è spento il 17 agosto 1988, un anno dopo aver ricevuto il Grand Prix nazionale di traduzione. Molti dei nostri migliori scrittori devono il successo Oltralpe al suo stile originale traduttivo: Pavese, Brancati, Zavattini, Fenoglio, Sciascia, Calvino, Savinio, Malaparte …
…Era il 27 giugno 1904 quando la casa in via Imbriani, palazzo Tresca, dei Frank, genitori svizzero-tedeschi, fu allietata dalla nascita di Nino, in una bella famiglia già numerosa, intrecciata nella vicenda umana alla storia della nostra viticoltura. Il padre, poco più che ventenne, giunse infatti a Barletta, con la moglie appena diciottenne, verso il 1882 per dirigere il grande stabilmento vinicolo che la ditta Combès di Bèzieres aveva fatto costruire… In grandi capannoni contenenti enormi botti di rovere venivano effettuati produzione, stoccaggio, esportazione verso la Francia del vino pugliese rosso di alta gradazione destinato ad irrobustire, con opportune operazioni di taglio, i vini bordolesi di più basso tenore alcolico.
Nino era l'ultimo rampollo di casa Frank, aggiungendosi alle tre sorelle ed al fratello, più grandi di lui dai 25 ai 17 anni, che, in seguito ai naturali eventi matrimoniali, presto lasciarono papà, mamma e fratellino al trasloco dal palazzo Tresca in un appartamento al secondo piano del vicino palazzo Lanciano, via Baccarini angolo corso Garibaldi, dove la Sottoprefettura ne occupava l'intero primo piano, mentre i locali a piano terra ospitavano il "Circolo degli impiegati"…Fu un ampio salone, male illuminato come sala di lettura dei giornali, il punto di maggiore attrazione del piccolo Nino Frank, che a poco più di tre anni d'età, ammesso di straforo a frequentare il Circolo al seguito del padre, lo descrisse poi in "Mémoire brisée", libro autobiografico pubblicato più tardi in Francia, sotto l'aspetto favoloso della iniziazione ad un lungho viaggio nella letteratura. Vi compaiono le sue nostalgie tutte barlettane, i "Cappuccini", orfanotrofio o gerontocomio che fosse, e gli inquilini della grande villa che vi sorgeva poco distante: quella di don Alfredo Reichlin, anch'egli immigrato d'origine svizzera che aveva fatto fortuna nel commercio all'ingrosso del carbone…i vagabondaggi nelle vie e vicoli attorno alla Cattedrale, all'antica Cantina della Disfida, al Castello normanno e al porto, le belle serate trascorse alla "Sala Roma", unico cinema di allora…
Nel 1916 muore il padre di Nino Frank e questo, conseguita la licenza ginnasiale, si trasferisce con la madre a Napoli dove frequenta il liceo internazionale; al termine dei corsi di studio, già in possesso di una perfetta conoscenza della lingua e sufficientemente erudito in fatto di letteratura francese, parte, all'età di 19 anni, per la Francia alla scoperta di Parigi, dove diventò quel personaggio di levatura europea, definibile come il più barlettano dei parigini, il De Nittis del Novecento letterario fra le due guerre. Tanto da meritare un'autentica riscoperta culturale ben più profonda, a dimostrare verso la Francia di oggi l'eredità culturale ed il tributo versato da Barletta, dalla Puglia, dall'Italia alla capitale della cultura europea.
…La sua profonda conoscenza dei pittori e scultori, dei poeti, scrittori e giornalisti, non soltanto francesi, che affollavano i bistrot parigini, gli permise di scrivere su di essi saggi interessanti e originali, rievocazioni di fatti ed episodi di vita vissuta. Probabilmente sconosciuti a noi barlettani suoi stessi concittadini di oggi. Tutta une fioritura ricchissima e variegata di ricordi e aneddoti riguardanti una vasta galleria di personaggi e figure affascinanti come James Joyce, Isaak Babel, F. Scott Fitzgerald, fino a Pirandello, Bontempelli, Italo Svevo, Bruno Barilli, De Chirico, Montale, e tanti altri. Come critico cinematografico, fu lui ad inventare l'espressione "film noir" per il genere poliziesco nato negli Stati Uniti anni '40 e reso popolare sulla stampa di allora dalla sua firma.
Estratto dal articolo di Nino Vinella, 9.9.2017, www.barlettalive.it
---
All translations from European texts are my own.